Board Member Constitutional Responsibilities
To establish liaison among chief business officials of California Community Colleges in your region.
To promote the professional advancement of ACBO.
To attend two (2) statewide meetings of the Association held annually. The region representative is encouraged to be the conference chair and work with the association facility negotiator.
To serve a three-year term with one-third of the area terms expiring each year. After serving two full three-year terms a period of two years must elapse before becoming eligible to serve the area again as director.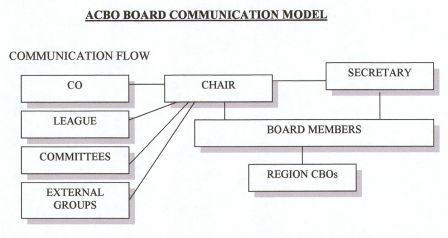 Communication Responsibilities
Chair
CO Information
CO
League
General Communications
Board Members
Region CBO Info/Minutes - Establish and keep current an email list of the CBOs in your region
Region CBO Feedback - Send information regarding Board discussion topics to region CBOs
Region CBO Surveys/Input - Seek input from region CBOs on Board discussion topics
Develop Contact for new CBOs

Contact new CBOs in your region
Inform new CBOs of the next conference
Explain ACBO structure
Share with the new CBOs, ACBO's Certification Program
Establish a CBO Mentor for the new CBO
Secretary