2020 Spring Call for Proposals
Proposal Deadline: March 4, 2020
Notification of Status: April 2020
The 2020 ACBO Spring Conference will take place on May 18-20, 2020 at the Monterey Plaza Hotel & Spa. We want you to join us!
We are now accepting your session ideas for the Spring Conference!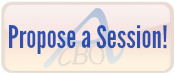 ACBO is always searching for engaging and informative conference presentations that focus on the solutions to the challenges we face, and preparing for the change that inevitably is headed our way.
We are looking for proposals that will fit into the following conference strands:
Student Success
Legislative & Regulatory
Fiscal Affairs
Organizational Change Leadership
General/Other
Based on your feedback, we would encourage session ideas that focus in the areas of the Student Centered Funding Formula (SCFF), Technology Research and its impact to data elements, Workforce and Economic Development, CTE, Adult Education and more!
If you're a vendor solicited directly by ACBO we want you, in partnership with one of your college clients (it is required that college representatives co-present with vendors), to share your knowledge and expertise by demonstrating successful partnerships, collaboration and innovative new products and technology that have resulted in real cost-saving solutions to campus challenges. All presentations should be designed to address the criteria of the above listed strands.
If you are interested in just sharing a topic idea but will not be presenting at the conference, you can still fill out the proposal form and share your ideas.
Be sure to check our website for regular updates on our conference program and logistics.
We look forward to seeing you in beautiful Monterey this spring!